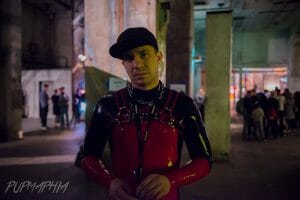 Holy piss it's been awhile since Dogs posted anything. As some of you know, Sir and Dog have been extremely busy. Work for dog has been hell for the greater part of 2017 and only recently decided to calm down. We also decided to move away from a brand-new house we've only owned for less than two years due to the toxicity of the neighborhood and the stress/tension it was creating with both of us. Yes, a neighborhood can simply do that. With that said, things have been on the up and up and smoothing out nicely. The new compound (house) is amazing, much less stress way more room for activities and in a very quiet town.
Onto the Eurotrip. Europe was amazing this year, Dog getting to spend time with his brother Shadow was much needed. Meeting up with Herny Mike and Stefan and spending time with the fellow gear heads from Germany is always a pleasure. The photoshoot we did this year in the city was a lot of fun and thankfully the weather was a slightly warmer and big Dog hugs to Henry and Jorge for taking the photos of us, both are amazing at capture a shot for sure.  After Folsom week we flew to the Netherlands to spend time with very good friends of ours, Roger and Robert whom we can't thank enough for the amazing time and hospitality they showed up. Unfortunately for Dog and his EasyJet allergy he got very ill for most of the time there but was still able to have an amazing time.
*Disclaimer, the following is Dog's opinion and not the opinion of the community. If you agree, wags! If you don't, wags!
Now onto the recent news. Y'all some salty bitches (Webster's dictionary definition). But I can see both sides. As Dog's stated time and time again how much being a Dog/Pup has been extremely positive for him and is something very dear to him. So this is the reason why Dogs writing about this. Recently there has been NUMEROUS articles on Pups on the social medias. Some agree with what's being said by the author and some don't. But the important thing to remember is that whatever they are saying is their opinions and theirs only. Just because Pup "X" said this is how you dog doesn't mean "Oh, I'm doing it wrong I must change" or "OMG they/them said that? Social, not Sexual? F*ck them!). Look, puppy play is what you make of it, it is you not them. I used to say there are no rules to puppy play but that is not the case anymore. Rule #1: There is no right or wrong way to be a pup. Rule #2: Be yourself! That's what makes you who you are, not who others want you to be. Rule #3: ALL PUPS ARE DIFFERENT! Stop acting like democrats and republicans, trying to divide this community. To all the authors out there, please be mindful of the community. If you decide to put yourself in the spotlight try to focus on you not pups as an entity. If the title of your article is "What Puppy Play means to me" yet it ends up being an Ikea instruction manual, then you're probably going to upset a majority of the community. Remember, you have a vast audience of readers/viewers reading this and you have the abillity to really ruin it for some when you say something isn't done by serious players/pups.  Readers/viewers, stop treating these articles as gospel. No one pup is better than the other, nor did they create pups.
Dogs been asked numerous times to write articles by a few outlets and every time Dog will decline. We post a lot of content on our social media accounts but the intention to be in some sort of limelight is extremely far from the truth. We post because we like to share our passion and experiences. Unlike oxygen and gym, it is not a necessity in life. We've pondered the idea of going dark a few times to just focus on our lifestyle but received negative feedback. The one thing dog enjoys is communication with others. With that, the one thing that will trigger dog is the "Me,me,ME's!"
Sharing is caring, and nobody likes a playground czar. It always a good practice to let others have their time and share but if your one of those people whom can't stand someone else sharing and have to blanket them with you, then that's wrong. Don't get me wrong, some will say "We'll Dog, you post like every second you bloody hypocrite." This is partly true, we share a bunch of content but keep it to our outlets not trying to steal the thunder. Nobody is perfect and Dog is FAR from it. The past few years have been a vast learning experience and you make mistakes and learn from them. Rule of thumb, let others have theirs. Also, if you rely on the feedback of others yet get upset when in your mind they aren't giving you the time of day then please remember like pups, everyone is different. Different schedules, different issues in life, different careers. People get BUSY. Sir and Dog know this all too well when we decided to buy a new house and sell ours overnight. Things come up and people get busy. Give others space and let them work things out, don't take it personally because they might have other things going on. Remember, some aren't going to gel with others and that's fine. It's human nature. If that isn't the case then why is there a definition of the word war?
Finally, the last order of business is the word "Lucky". This term is directed to Dog frequently. As it may be intended to be a compliment, it can be negative. Dog did not go down to the local 7/11 and buy into the fetish lottery and win the mega ballgag. Sir and Dog work blue collar jobs and we work our behinds off for what we have. The gear, the compound, etc, we worked for it all, none if it was won in a lottery. Sir and Dog also didn't win the puppy/Sir lottery. We worked to find each other and part of the work is time. Dog waited 25 years to find Sir and Sir waited a bit longer. We don't consider ourselves lucky, we are compatible. We were meant for each other and luck didn't make that happen. Love isn't lucky, its love.  Patience! If you want something in life, do the leg work and make it happen!
Tl;dr
Sir and Dog have been record-setting busy!
Euro was AMAZING! Thanks, Henry, Stefan, Jorge, Roger, Robert!
Stop trying to reinvent the wheel for everyone.
Johnny, share with your sister.
Working for something does not mean you are lucky.
As usual, *wags* and other dog-related activities. Keep it shiny!  | Be humble – Kendrick Lamar