*Warning, may contain spice*
Barks, wags, what not.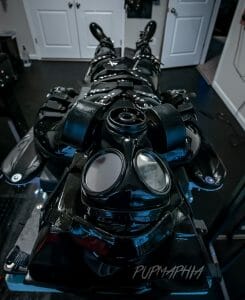 Yes, Sir and Dog are still here. Yes, we are still doing the same kinky gimp dog stuff. Yes dogs still throwing shiny coupons around buying new stuff. Same program for both of us.
Dog has been confronted though and asked? "Have you changed?". The quick answer to that is no, same gimpy ass Dog lol.  But totally not related to "drones" Dog's operating procedures have changed. As stated previously in one of Dog's updates, he's spending much less time on the social media (Lies, amplifiers, and fucking Twitter)- Sorry Homeland joke I had to throw it in there, great show I highly suggest it, but I digress. Things have been working out great with us. Sir got a new job working for one of Dog's favorite companies and Dog's altered his work hours so now Sir and dog work the exact same hours so we can spend more and more time doing daily gimpy stuff together which is something we struggled to do since our hours never matched up so perfectly.
There are some issues though and this is where things get a bit spicey…….
Dog's going to wander away a bit from and the Dog=I thing, confused? Just replace Dog with I for a bit. Ever since I came out of the kinky social media closet back in 2013 (did kink in the shadows for many years before) its been a learning experience and really tested myself. I've met some really great people and I've met some not so great people, but that is life. It's just even though I've only been active in the gay kink community regularly for five years now, I have seen a change. One question? What is with the pissing matches? It just seems everything is a one-up type of scenario? Before you call me a hypocrite, hear me out. Yeah, I do have A LOT of gear, yes I have done A LOT of things.  Some call me/us lucky, I call us hard working. You want what we have? Then work for it. I work 2.5 jobs atm (.5 is super part time but honorable mention). Sir works a TON of overtime and has a part-time job as well. Things aren't free. So for some, it may come off differently or "one-upping" but the real news answer to that is, we are just enjoying our passions while spending our hard earned money. We are a gay couple, therefore for us, no kids, no college savings, no weddings to save for. So after we double up on monthly overhead/savings, goes to things Sir and I can enjoy together, things that bring us closer together, the way we (laugh if you want) make love. With that aside, I'll get to the point.
I've gone through a process of focusing on what makes Sir and myself happy. You may have seen me be more vocal about how far my kinks go with the cathing and the cross-dressing. It wasn't something I hid because I was worried about what the community thought or how it would mesh, it was because Sir wasn't fully onboard with the idea and suddenly supported dog 110% with it. You'll find out that I am me, I don't follow the herds or the norms. I won't be influenced by fetish companies or swayed into doing interviews (I turn them all down) or member spotlights. I'm not for title holders or contests. I will never be or want to be some sort of kinky model. I just want to live out the remainder of my life doing the kinky stuff I enjoy with Sir, ZERO COLLUSION. Since I've become public, it just seems people/cliques/groups try to sway you into doing things how they do or going to events they want. We do not operate like that, I'm sorry. We also don't feed into overall needy behavior. We are not going to give into people wanting free handouts out of nowhere. I've spent the past few weeks resorting my life and focusing on what truly matters, Sir and genuine people. Time is limited in life and no matter how much money you make, you can never buy more. So we will not waste it on people whom just want to boost their e-penis on the interwebs. Getting messages attempting to shift guilt because I unfollowed someone on twitter is just childish. I don't care about having a ton of followers, it doesn't change what I like to do. People are worried about "FOSTA-SESTA", well what happens if twitter/fetlife/recon etc get shut down? Are you just gonna quit doing kink because hey twitters gone I have zero followers? No, keep doing what makes you happy. To put things bluntly, fuck what other people want you to do, or whats popular/hip or who has photos with who. Because in the end,  its just 1's and 0's. Sure, share what you're passionate about, I'm one of the biggest activists on that. But don't make it your job or life goal to out piss someone, because there's always gonna be someone that can piss farther than you. Stop wasting time, and enjoy your life. Hell, since I've taken time off from trying to fit in social media, I've started building a custom truck in which I hope to start my metal fabrication company building customs desert trucks back up. Life is great! Don't let the internet steer you away from that.
<3 from Dog.
FYI: Dog will be announcing his yearly catsuit giveaway shortly. So keep an eye out.