It's summer and it's hot as balls here!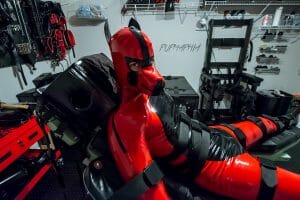 I figured its been a hot minute and Dog does need help. As some of you have noticed, every year for the past two year's Dog's given away a catsuit as part of his shiny scholarship. Since nothing is free in life lol… Dog will require something to enter and not just a retweet (although they do help spread the word). Dog's looking for ideas, please hit Dog up on telegram @pupmaphia or on the twittersphere.
Onto less exciting things but something Dog needs to get off his chest. The past few blog posts haven't been super peachy, and I apologize. I spent the past couple of years trying to figure out the root cause of why I became slightly irritated with things and others and when Dog thought he figured it all out, something else would pop up. Dog touched on it in the spring update blog that physical issues with Dog were really messing with his psych. This was a huge part of what was going on. The fear of not being able to walk correctly for the rest of my life or the threat of a two-year long recovery threatened my career that I've spent ten years invested in. Most don't know but years ago I wasn't the most active Dog out there. I'd only run to the bathroom and never really cared for gym. It wasn't until I was midway through my career that I decided to live a more active and healthy lifestyle. I've spent years working towards how I wanted to look and what I could do physically which that was all going to stop in May of this year with the surgery. Two weeks before Dog had his procedure he had a meltdown, he admits it. The added stress of dealing with work ramping up 200% and preparing for the surgery took its toll and even though Dog's been through some VERY nasty things, he wasn't prepared at all. After speaking with my boss and working out a game plan, this got slightly better. Dog took time off work before the procedure to sort out the next possible two months of being laid up.
In the first week of May, Dog had his procedure. It went way better than anyone could expect and to Dog's shock, he was going to be able to walk on his own with his knee locked for six weeks. This was the best news Dog could have received. Five days of being a complete blob on the sofa caused Dog to throw his ass in the truck and drive to the gym. As the weeks went on his knee got better and better. Fast-tracking this week, Dog almost has the complete range of motion and is ahead of his recovery schedule by an entire month.  Since the sixth day after his procedure Dog's noticed he's genuinely happier and feeling like he did years ago. During the countless Doctors appointments, Dog was also diagnosed with Chronic Insomnia. Dog was on average getting 3-4 hours of sleep every night for the past 3.5 years. Although there is no miracle cure or operation that could be done they prescribed Dog with something to help him every night and since then Dog gets a solid 7-8 hours every night.
On the positive side of things. Dog genuinely feels like a million bucks. It's been awhile since he's felt "right" but trying to self-diagnose yourself is almost as bad as using WebMD. On the flip side, I want to apologize. During Dog's episode of bullshitery, he wasn't always the most pleasant to talk to. What Dog's realized is you can NOT base your thoughts on someone based off fucking twitter mybook or facepage. It is impossible to know everything about someone. It's like calling yourself a Doctor cause you can google what to do for a cough. Dog's made some terrible calls and also some good ones. Members of the community saw what Dog was going through and dug past the salt mounds and found that there was more going on behind the shiny photos and Dog's lube covered coat. Dog's not a God. He's just like everyone else, life does catch up and practices CBT when you are least expecting.
Dog really does continue to appreciate everything from everyone and if ANYONE is even in need or needs someone to talk to please contact me. Dog has zero problem lending a paw. If you've ever felt like there was something "odd" between you and Dog. Please message him because 99% of the time its something else bothering Dog.
Dog would also like to thank the support from the community with the shiny cross dressing stuff he's been doing. It was a phobia about coming out to wanting to do that stuff because of ridicule from people. Dog's realized that doesn't matter and went with it anyways since its something hes always wanted to do since he was a very young pup and boy is it FUN! It just took an extended bit of time to be comfortable with it and for Dog to get his figure right. There is no joy for Dog to alter his body in photoshop to look right since he is very critical of his figure. Sadly that took a lot of time and sweat at gym as well as giving up Pop Eye's Thursday and going on a diet. So thank you all for the support.
PS: Stay tuned for the 3rd annual catsuit giveaway. Dog doesn't have a firm date but it will be this Summer since its fun putting rubber on and turning into soup inside it 😛
Travel has been firmed up for 2018 and the beginning of 2019.
Folsom Berlin in September
MIR in November
MAL in January
Leather Pride Belgium in February
<3 Dog