Long story short, 2020/2021 has been super crazy for us. I'm supposed to be "retired" now, but we all know that's not going to happen. Life got pretty hectic in the first quarter of 2021, and I was genuinely unhappy with my occupation at the time. It's one thing to make a great income, but it's also great to feel valued and appreciated (this goes for kink as well). The feeling of being "used" sucks, no denying that. Not being afraid of change, we took a vacation to a swanky resort, and I told corporate America to f*** off, kindly. Overnight I decided to restart my business that I created back in 2007 and give it a whirl.

Needless to say, the success was not only overwhelming but unexpected. Sir and I aren't ones to plan things out, but we both couldn't have planned for what happened. The pitfall was a lot of or passions had to be put on hold. Not only kink (which we still did at least bi-monthly) but my passion for wrenching on my vehicles. Transmission fluid leaking down my driveway because I hadn't driven/worked on one truck for MONTHS, lube starting to smell like pumpkins, the musty air in the padded cell. What point am I getting at? Sometimes life/shit happens, but don't give up. I never once looked back and said, "well fuck, this is hard work, and I cant wear my rubber suit because of it" and just quit. If there's one thing I've learned that I try to convey is, hard work WILL pay off. Maybe not in a tangible c-note; it may be in the form of accomplishment. Regardless of what people say about how many followers you have or whatever, my rubber suits aren't going to pay my obligations to provide for both myself and my Sir. Suppose you need to step away from something to address an opportunity that can change your life, do it! Because you will hit a point when you can come back to your passions. Time management is fundamental, and dwelling could lead to missed opportunities.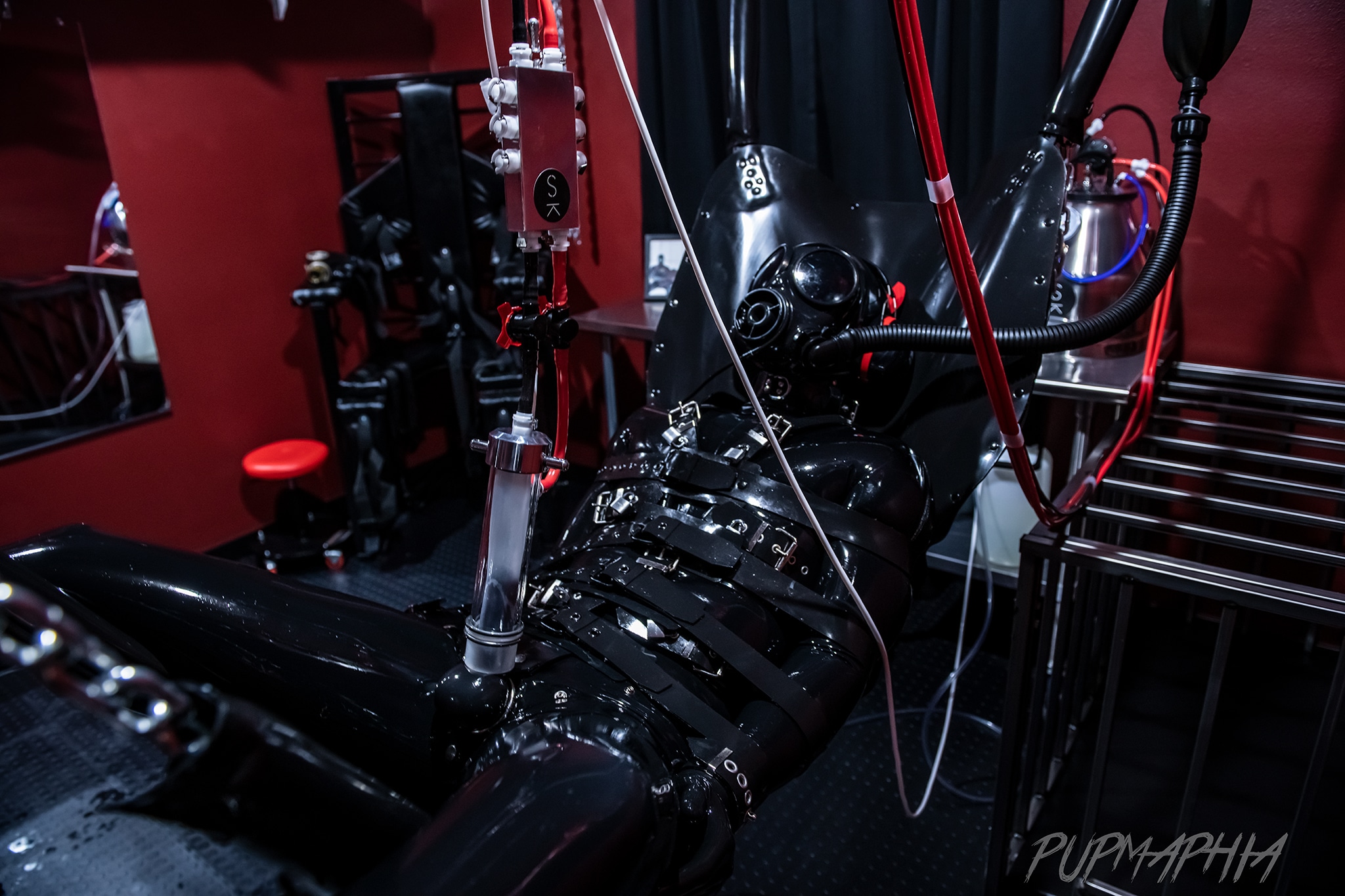 With my totally pointless and unwarranted rambling out of the way, I'm happy to say that we've hit the "groove" again. It's nice to get back into our routines and enjoy the stuff we love. My business is doing very well, and I'm having fun. There were many stressful months/weeks trying to get everything sorted, but I'm happy I stuck with it. What's even better is being back on the sling/cell/table/chair and in my shiny. The relaxing comfort that it brings has returned in a big way, and positivity overall has increased tenfold. I know I abruptly left many telegram chats and went into a dormant mode, but unfortunately, I had to focus on what I was trying to accomplish. I mean hell, Sir and I absolutely ADORE Berlin but due to clearing up some final particulars, we had to miss Folsom EU this year. But, that's okay because next year we will hit it big time!

We miss y'all and hopefully get to reconnect soon! I know Europe is on the forecast for us, and hopefully, Popeye's has expanded over there. I've released my guide on making latex shiner a few days ago.
Side note: Soon I will be manufacturing various furniture and equipment for kinky use. I do not plan to mass produce items but they will be somewhat bespoke.

Warm regards,
Dog <3