Many have asked, "Dog how do you make your dog lewb" but Dog has been very reluctant to answer.
Well, there is a very good reason why! Dog doesn't want to release information to the community and it is incorrect. The first versions of dog lewb were usable but not where it needed to be. The second and finally third really narrowed it down to be perfect.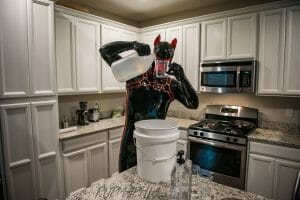 *Disclaimer: You will get salty to find out how badly you've been FUCKED by the industry in the mark up of damn lube, its worse than oil. We were going through a gallon every month so we know how much it sucks to find out you could have been making it yourself and saving a car payment a month.
The recipe is fairly simple, which is good because the least amount of stuff you are mixing in your lube the better.  Remember some store purchased lube will say "Latex" safe but keep in mind they are mainly talking about condoms. As always Vitamin-E (Tocopheryl Acetate) and Aloe are not your friends.
The ingredients! (Links added where we purchase)
Your base: Dimethicone 350 CST (CST= thickness, lower the number = thinner)
Thinner: Cyclomethicone – This will thin down the Dimethicone to make the spreadability of the lube much easier. Also will help break down the stickiness of the Dimethicone.
Anti-Foam/Anti-Stick: Phenyl Trimethicone Many overlook this ingredient but it is important. This is used to remove the stickiness factor of the lube, the  Anti-Foam nature of this is a plus but isn't a problem. The stickiness was an issue because it would cause friction while putting on rubber. Using this corrected that issue and made the lewb spot on with major brands.
The Mixture-
Take in mind Dog is not a rocket scientist, Dog is just a dog!
It easier for Dog to explain this on a per gallon basis.
A gallon of Dimethicone as your base, then using an immersion blender or hell a spoon if that's all you have, mix in 1/2-2/3 gallon of Cyclomethicone. The range of Cyclomethicone varies because of the Dimethicone not always being at 350 CST. You can pour 1/2 a gallon of Cyclomethicone in and feel for yourself the thickness you'd desire.  If its still a bit too thick, then add a bit more Cyclomethicone. Think of it like Kool-Aid, if its too bitter you can always add more sugar, too sweet, more water.
Finally, add 4 oz's of Phenyl Trimethicone to your lube and your all set!
If the lube looks cloudy that's fine it will settle and become clear as glass. This has nothing to do with the performance of your lube.
The cost break down.
Since we go through a lot of lube we usually buy gallons of both Cyclomethicone and Dimethicone.
1 Gallon of Cyclomethicone – $46.25
1 Gallon of Dimethicone – $45.99
8oz of Phenyl Trimethicone – $19.95
*The more bulk you buy the cheaper your cost per gallon will be. We buy 5 gallon buckets and our cost is around $38 per gallon.
Total – $112.19
Price per above recipe (About 1.8 gallons or 230 oz) – $62.32 or $5.45 per 20 oz bottle. 
Enjoy and let Dog know if you have any questions!